2012 Fall Watch List Announced
« Back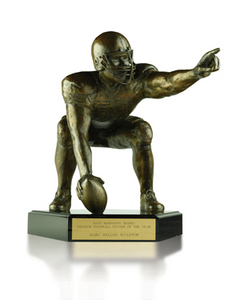 July 10, 2012 - The Rimington Trophy committee has released its 2012 Fall Watch List.

The list includes 21 returning players from the 2011 Watch List. In all, there are 51 players on the Watch List. The Southeastern Conference leads the way with ten players. The Big Ten follows with six players, while the ACC, Conference USA, Mountain West Conference, and the PAC-12 all check in with five players each. In addition, there are two graduate students and eight sophomores on the Watch List.


The following is a list of those named to the 2012 Rimington Trophy Fall Watch List.











| | | | | |
| --- | --- | --- | --- | --- |
| Eloy Atkinson | UTEP | 6'3" | 315 | Senior |
| Mario Benavides | Louisville | 6'4" | 301 | RS Senior |
| Nick Carlson | Wyoming | 6'4"; | 292 | Senior |
| Braxston Cave | Notre Dame | 6'3" | 304 | Graduate Student |
| Dillon Day | Mississippi State | 6'4" | 295 | RS Sophomore |
| Reese Dismukes | Auburn | 6'3" | 302 | Sophomore |
| Trent Dupy | Tulsa | 6'2" | 285 | Senior |
| Dillon Farrell | New Mexico | 6'5" | 290 | Junior |
| James Ferentz | Iowa | 6'2" | 284 | Senior |
| Jay Finch | Georgia Tech | 6'3"; | 283 | RS Junior |
| B.J. Finney | Kansas State | 6'4" | 303 | Sophomore |
| Travis Frederick | Wisconsin | 6'4" | 328 | Junior |
| Dalton Freeman | Clemson | 6'5" | 285 | Graduate Student |
| James Fry | TCU | 6'3" | 290 | Senior |
| Kevin Galeher | Western Michigan | 6'3" | 300 | Senior |
| Hronis Grasu | Oregon | 6'3" | 284 | Sophomore |
| Ben Habern | Oklahoma | 6'4" | 292 | Senior |
| Gus Handler | Colorado | 6'3" | 295 | Junior |
| Jonotthan Harrison | Florida | 6'3" | 309 | RS Junior |
| Khaled Holmes | USC | 6'4" | 305 | Senior |
| Andre Huval | Louisiana-Lafayette | 6'1" | 290 | Junior |
| Alec Johnson | San Diego State | 6'3" | 300 | Senior |
| T.J. Johnson | South Carolina | 6'6" | 319 | Senior |
| Barrett Jones | Alabama | 6'5" | 302 | Senior |
| Zac Kerin | Toledo | 6'5" | 300 | Junior |
| Tyler Larsen | Utah State | 6'4" | 308 | Junior |
| Patrick Lewis | Texas A&M | 6'2" | 306 | Senior |
| P.J. Lonergan | LSU | 6'4" | 305 | Senior |
| Macky MacPherson | Syracuse | 6'2" | 269 | Junior |
| Joe Madsen | West Virginia | 6'4" | 310 | RS Senior |
| Mike Marboe | Idaho | 6'2" | 301 | Sophomore |
| Will Matte | Indiana | 6'2" | 290 | RS Senior |
| Blake McJunkin | SMU | 6'2" | 305 | Senior |
| Andrew Miller | Virginia Tech | 6'4" | 300 | RS Junior |
| Brian Moore | Duke | 6'2" | 285 | RS Senior |
| Graham Pocic | Illinois | 6'7" | 305 | Senior |
| Ryan Powis | Army | 6'0" | 257 | Sophomore |
| Austin Quattrochi | Southern Mississippi | 6'3" | 295 | RS Senior |
| Jordan Rae | UCF | 6'2" | 275 | Senior |
| Weston Richburg | Colorado State | 6'4" | 297 | Junior |
| Sam Schartzstein | Stanford | 6'3" | 290 | Senior |
| Matt Smith | Kentucky | 6'4" | 296 | Senior |
| Matt Stankiewitch | Penn State | 6'3" | 295 | Senior |
| Tevita Stevens | Utah | 6'3" | 302 | Senior |
| Travis Swanson | Arkansas | 6'5" | 305 | Junior |
| Evan Swindall | Ole Miss | 6'2" | 300 | Junior |
| Ryan Turnley | Pittsburgh | 6'6" | 320 | Senior |
| Brandon Vitabile | Northwestern | 6'3" | 300 | Sophomore |
| Stephen Warner | Louisiana Tech | 6'0" | 295 | RS Senior |
| Robert Waterman | UNLV | 6'2" | 290 | Sophomore |
| Camden Wentz | NC State | 6'3" | 225 | Senior |
While more than a dozen All-America football teams are selected annually, the Rimington Trophy committee uses these four prestigious teams to determine a winner:

* American Football Coaches Association
* Walter Camp Foundation
* Sporting News
* Football Writers Association of America

Because the selectors of these four All-America teams can place Centers in a "mix" of offensive linemen that includes guards and tackles, their 11-man first teams can often have two Centers. Our policy is to count all players that play primarily the Center position for their respective teams as Centers, even though they maybe listed as guards or tackles on the four All American teams.

The Center with the most first team votes will be determined the winner. If there is a tie with first team votes, then the Center with most second team votes will win. If there is still a tie, the winner will be determined by the Rimington Trophy committee.

The winner will be honored at Rimington Trophy Presentation banquet at the Rococo Theater in Lincoln, Nebraska on January 12, 2013.

Seth Gonzales
Rimington Trophy Media
O:646-292-7946
sgonzales@esiason.org


About the Rimington Trophy
The Rimington Trophy is presented annually to the Most Outstanding Center in NCAA Division I-A College Football. Since its inception, the Rimington Trophy has raised over $2 million. The twelve-year old award is overseen by the Boomer Esiason Foundation, which is committed to finding a cure for cystic fibrosis and has raised over $100 million for CF Research.
Dave Rimington, the award's namesake, was a consensus first-team All-America center at the University of Nebraska in 1981 and 1982, during which time he became the John Outland Trophy's only double winner as the nation's finest college interior lineman. For more on the Rimington Trophy and a list of past recipients, visit www.rimingtontrophy.com

About the NCFAA
The Rimington Trophy is a member of the National College Football Awards Association (NCFAA). The NCFAA was founded in 1997 as a coalition of the major collegiate football awards to protect, preserve and enhance the integrity, influence and prestige of the game's predominant awards. The NCFAA encourages professionalism and the highest standards for the administration of its member awards and the selection of their candidates and recipients. For more information, visit the association's official website, ncfaa.org.

The members of the NCFAA are unveiling their preseason watch lists over a 12-day period this month. Fifteen of the association's 21 awards select a preseason watch list and the NCFAA has spearheaded a coordinated effort to promote each award's preseason candidates.

The following is the complete 2012 preseason watch list calendar:

Mon., July 9: Bednarik Award / Maxwell Award

Tue., July 10: Mackey Award / Rimington Trophy

Wed., July 11: Lou Groza Award / Ray Guy Award

Thurs., July 12: Bronko Nagurski Trophy / Outland Trophy

Fri., July 13: Jim Thorpe Award

Mon., July 16: Butkus Award / Rotary Lombardi Award

Tue., July 17: Biletnikoff Award

Wed., July 18: Davey O'Brien Award

Thurs., July 19: Doak Walker Award

Fri., July 20: Walter Camp Award
Search Archives