Current Winner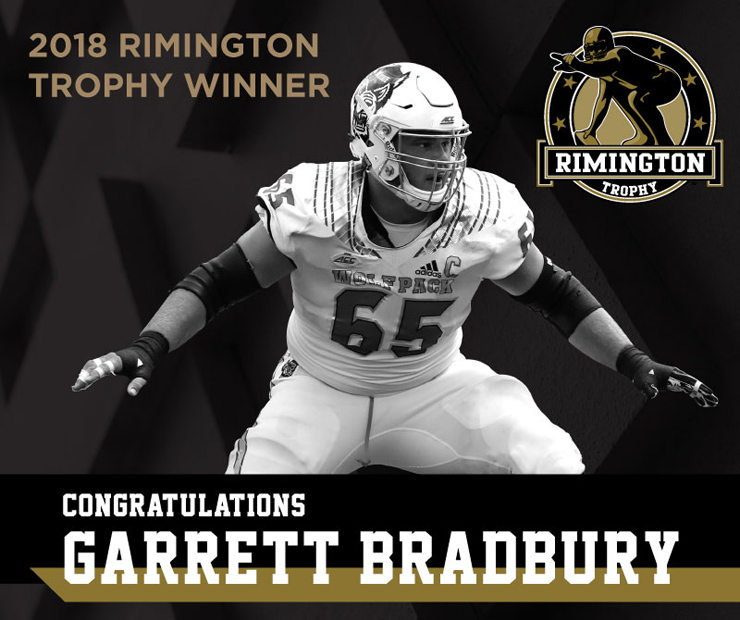 Garrett Bradbury, RS Graduate of NC State, was awarded the Rimington Trophy, given to the nation's most outstanding center, on Thursday, December 6, 2018 at the ESPNU Red Carpet Show preceding the ESPN Home Depot College Football Awards Show. Upon receiving the honor, Bradbury said, "It is an unbelievable honor and a dream come true for me to receive the Rimington Trophy. I want to thank the Boomer Esiason Foundation, as well as my coaches and teammates. I couldn't have had the success I have without my 'band of brothers'."
Bradbury, the 20th recipient of the award, will be honored by the Rimington Trophy committee and the Boomer Esiason Foundation at the Rococo Theatre in Lincoln, Nebraska on January 12, 2019 – in the same city where trophy namesake and Nebraska All-American, Dave Rimington, earned his place in the College Football Hall of Fame.
After beginning at NC State as a 250-pound tight end, Bradbury moved to offensive guard as a redshirt sophomore, eventually transitioning to center as a redshirt junior. In his first season at center, he was a first-team All-ACC choice by the Atlantic Coast Sports Media Association and won honorable mention honors on the official league team. He was named to the ACC Academic Honor Roll each of the past four years, and went on to be named a first-team All-ACC performer this year, as well as a semifinalist for the 2018 Outland Trophy and team captain. Also in the classroom, he has earned Google Cloud Academic All-District honors two straight seasons. He did not allow a quarterback pressure all season and was consistently listed as one of the top performers on offense nationally this season. Most recently, Bradbury scored a touchdown in the final regular season game against East Carolina, rushing the ball from the one-yard line.
About Bradbury, NC State head coach Dave Doeren said, "It has been a true pleasure to watch Garrett develop from a 250-lb. tight end into the best center in the country. He is not only a great player but a special person! He is a leader, a student of the game, and a person who treats people around him with tremendous respect. He is well-deserving of this honor and we are very proud of him."