2009 Spring Watch List Released
« Back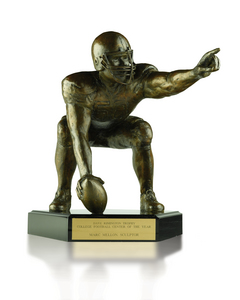 May 20, 2009 - The Rimington Trophy committee has released its 2009 Spring Watch List.

The list includes 12 returning players from the 2008 Watch List. In all, there are 44 players on the Watch List. The SEC checks in with the most candidates, with six players being named. The ACC, Big-12, Big Ten and WAC are represented by five players each on the Watch List.


The following is a list of those named to the 2009 Rimington Trophy Spring Watch List.











| | | | | |
| --- | --- | --- | --- | --- |
| Eddie Adamski | Northern Illinois | 6'3" | 280 | RS Senior |
| Kenny Alfred | Washington State | 6'2" | 310 | RS Senior |
| Garrett Anderson | South Carolina | 6'4" | 307 | Senior |
| Tim Barnes | Missouri | 6'4" | 305 | Junior |
| Carl Barnett | Houston | 6'2" | 285 | RS Senior |
| Colin Baxter | Arizona | 6'4" | 295 | Junior |
| Joe Bernardi | Fresno State | 6'3" | 290 | Junior |
| Ryan Blaszczyk | Rutgers | 6'4" | 295 | Senior |
| Ben Bojicic | Bowling Green | 6'4" | 273 | RS Sophomore |
| Mike Brewster | Ohio State | 6'5" | 296 | Sophomore |
| J.C. Brignone | Mississippi State | 6'2" | 300 | Junior |
| Ben Burkett | Northwestern | 6'4" | 280 | Sophomore |
| Thomas Byrd | Boise State | 5'11" | 275 | Sophomore |
| Ronnie Castillo | San Jose State | 6'0" | 292 | Senior |
| Eric Cook | New Mexico | 6'6" | 315 | Senior |
| Lowell Dyer | North Carolina | 6'4" | 290 | Senior |
| John Estes | Hawaii | 6'2" | 290 | Senior |
| Chris Fisher | Louisiana-Lafayette | 6'3" | 285 | Senior |
| Daverin Geralds | Mississippi | 6'2" | 312 | Senior |
| Jorge Gonzalez | Kentucky | 6'3" | 305 | Senior |
| Chris Hall | Texas | 6'4" | 300 | Senior |
| Jacob Hickman | Nebraska | 6'4" | 295 | Senior |
| Trask Iosefa | San Diego State | 6'0" | 315 | Junior |
| Ted Larsen | North Carolina State | 6'2" | 295 | Senior |
| Kevin Matthews | Texas A&M | 6'4" | 297 | Senior |
| Jim McKenzie | Syracuse | 6'4" | 286 | Junior |
| Ryan McMahon | Florida State | 6'3" | 282 | RS Junior |
| Colin Miller | Central Michigan | 6'3" | 291 | Junior |
| John Moffitt | Wisconsin | 6'2" | 313 | Junior |
| David Molk | Michigan | 6'2" | 383 | RS Sophomore |
| Bryan Morgan | Duke | 6'3" | 250 | Junior |
| Joel Nitchman | Michigan State | 6'3" | 296 | Senior |
| Kristofer O' Dowd | USC | 6'5" | 300 | Junior |
| Maurkice Pouncey | Florida | 6'5" | 318 | Junior |
| Lon Roberts | Louisiana Tech | 6'3" | 277 | RS Junior |
| Jake Seitz | UAB | 6'2" | 290 | Senior |
| Brad Serini | Florida International | 6'3" | 300 | Junior |
| Matthew Tennant | Boston College | 6'4" | 284 | Junior |
| Mark Thompson | Middle Tennessee | 6'5" | 302 | RS Senior |
| Bradley Vierling | Vanderbilt | 6'2" | 294 | RS Senior |
| Tim Walter | Colorado State | 6'6" | 290 | Senior |
| J.D. Walton | Baylor | 6'3" | 305 | Senior |
| Dan Wenger | Notre Dame | 6'4" | 302 | Senior |
While more than a dozen All-America football teams are selected annually, the Rimington Trophy committee uses these four prestigious teams to determine a winner:

* American Football Coaches Association
* Walter Camp Foundation
* Sporting News
* Football Writers Association of America

Because the selectors of these four All-America teams can place Centers in a "mix" of offensive linemen that includes guards and tackles, their 11-man first teams can often have two Centers. Our policy is to count all players that play primarily the Center position for their respective teams as Centers, even though they maybe listed as guards or tackles on the four All American teams.

The Center with the most first team votes will be determined the winner. If there is a tie with first team votes, then the Center with most second team votes will win. If there is still a tie, the winner will be determined by the Rimington Trophy committee.

The winner will be honored at Rimington Trophy Presentation banquet at the Rococo Theater in Lincoln , Nebraska , on January 17, 2009.

~~~~~~~~~~~~~~~~~~~~~~~~~~~~~~~~~~~~~~~~~~~~~
About the Rimington Trophy

The ten-year old trophy is presented by the Boomer Esiason Foundation. Past recipients include Nebraska 's Dominic Raiola, Ohio State 's LeCharles Bentley, Miami 's Brett Romberg, Virginia Tech's Jake Grove, co-winners Michigan 's David Baas and LSU's Ben Wilkerson, Minnesota 's Greg Eslinger, West Virginia 's Dan Mozes, Arkansas ' Jonathan Luigs, and Penn State's A.Q. Shipley. Since its inception the Rimington Trophy Award has raised over $1.3 million for the award's benefactor, the Cystic Fibrosis Foundation, which is hosted by the Boomer Esiason Foundation that to date has raised over $73 milllion for CF Research.

Rimington, the award's namesake, was a consensus first-team All-America center at Nebraska in 1981 and 1982, during which time he became the John Outland Trophy's only double winner as the nation's finest college interior lineman.

The Rimington Trophy is a fully accredited member of the National College Football Awards Association.
~~~~~~~~~~~~~~~~~~~~~~~~~~~~~~~~~~~~~


Seth Gonzales
Rimington Trophy Media
646-292-7946
sethbef@yahoo.com
Search Archives